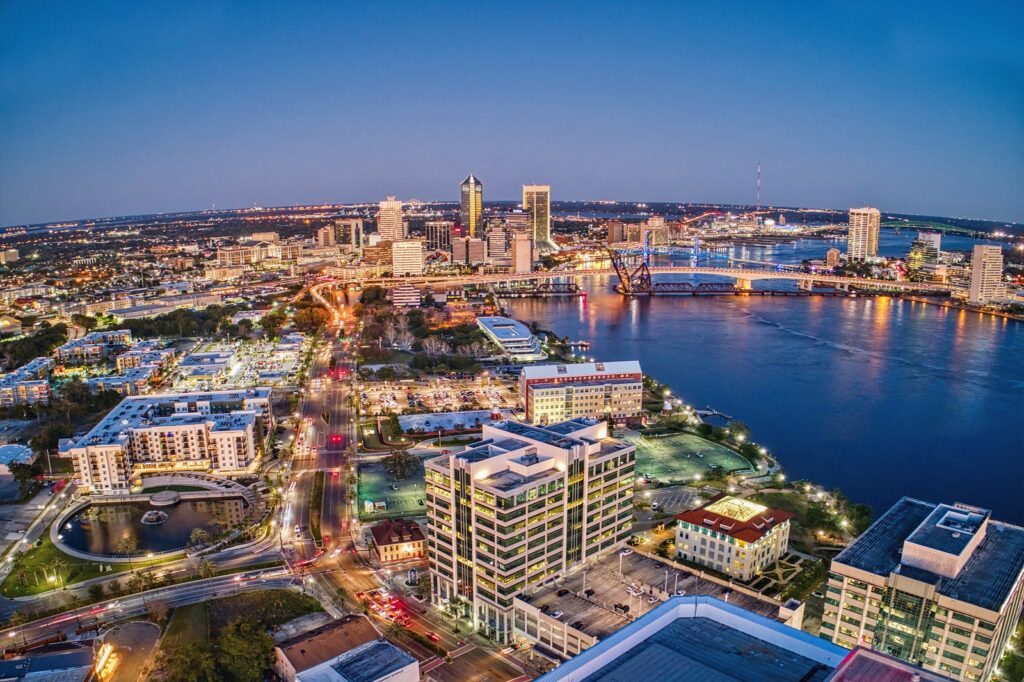 Florida is known for being one of the most vibrant and unique states in the country. Entertainment options are plentiful in this southern ocean-side state, from the famous Universal Studios to the beautiful scenery at one of their beach bars, there is an adventure suitable to anyone's desires.
Keep reading for a comprehensive guide on Florida's nightlife and which cities and attractions you should check out.
Destinations
Miami and Miami Beach
Miami Beach is renowned for its glamorous nightlife and unforgettable attractions.
Ocean Drive and Collins Avenue in Miami Beach are known for their trendy bars, nightclubs, and restaurants, creating a vibrant atmosphere. World-famous events like Art Basel and Miami Music Week attract top DJs and artists, making Miami a nightlife destination with a thrilling mix of music, dance, and energy.
Orlando
Beyond its famous theme parks, Orlando, Florida, offers a vibrant nightlife scene.
Downtown Orlando is a hub of entertainment, with numerous bars, clubs, and live music venues. Church Street and Wall Street Plaza offer a lively atmosphere, while Universal CityWalk and Disney Springs feature a mix of dining, shopping, and live entertainment. With its artsy districts and diverse music scene, Orlando caters to a range of tastes, making it a dynamic destination for those looking to enjoy the city's nightlife.
Fort Lauderdale
Fort Lauderdale boasts a vibrant nightlife with a distinctive coastal allure. The city's beachfront nightlife scene features a mix of waterfront bars and restaurants that offer stunning ocean views. Las Olas Boulevard is a nightlife hotspot, showcasing a diverse range of options from upscale dining to quaint diners. This coastal city offers a variety of entertainment, making it a lively destination for those seeking a balance of beachfront relaxation and vibrant nighttime activities.
Tampa
Tampa, Florida, ignites your senses with its electric nightlife scene. Ybor City, a historic district, pulses with energy with its diverse bars and clubs. Downtown Tampa offers a melange of music venues, craft breweries, and restaurants. Nearby St. Petersburg adds to the vibrant mix with its unique entertainment options. Tampa's nightlife caters to every taste, ensuring an unforgettable evening out.
Key West
Key West, the southernmost city in the US, is known for its laid-back yet vibrant nightlife. Duval Street, a bustling historic strip, teems with a vibrant mix of attractions such as cafes and live music, creating a welcoming and fun atmosphere. Key West's nightlife comes alive during the daily sunset celebrations at Mallory Square, where street performers and vendors entertain crowds against the backdrop of a breathtaking sunset over the Gulf of Mexico. It's a place where relaxation and revelry intertwine effortlessly
Attractions
Beach Bars
Florida's beach bars are iconic, offering a unique coastal experience. Nestled along the state's picturesque coastlines, these bars provide stunning ocean views, lively atmospheres, and a range of tropical cocktails and local brews. From Clearwater Beach to Fort Lauderdale, beach bars offer a relaxed, open-air setting where visitors can enjoy live music, sunsets, and the soothing sounds of the sea. Providing a perfect blend of relaxation and entertainment, beach bars are popular hangouts for locals and tourists alike.
Live Music
Florida's music scene is a vibrant and eclectic tapestry, catering to a diverse range of musical tastes. From world-famous artists performing in large venues in Miami, Orlando, and Tampa to thriving local music scenes in smaller cities, Florida offers something for every music lover.
Outdoor music festivals like Ultra Music Festival and Suwannee Hulaween draw music enthusiasts from all over the globe, while beachfront bars, jazz clubs, and theaters offer more intimate opportunities to enjoy live music. Florida is a true hub for music lovers, offering a variety of experiences to suit every taste.
Dining
Florida's dining scene offers diverse flavors, showcasing a vibrant mix of cultures and influences.
Farm-to-table restaurants highlight the state's fresh, local ingredients, providing diners with a taste of Florida's bounty. Beachfront dining offers a unique atmosphere, where diners can savor delicious food with stunning ocean views.
Food festivals, food trucks, and fine dining establishments cater to a broad spectrum of tastes, making Florida a culinary paradise for foodies of all kinds.
Special Events
Theme parks like Walt Disney World and Universal Orlando Resort enchant millions of visitors each year, while the state's pristine beaches beckon with water sports and relaxation. Cultural events like Art Basel Miami Beach showcase the world's finest art and design, while nature lovers can explore the wonders of the Everglades or Dry Tortugas National Park.
Unique festivals like the Florida Strawberry Festival, Gasparilla Pirate Festival, and the Florida Cannabis Festival (here you can apply for an MMJ), add to the state's unique excitement. 
I am an accomplished tech writer with a passion for simplifying complex technology concepts. With a background in Tech, James has dedicated their career to making the intricacies of the digital world accessible to a broad audience.